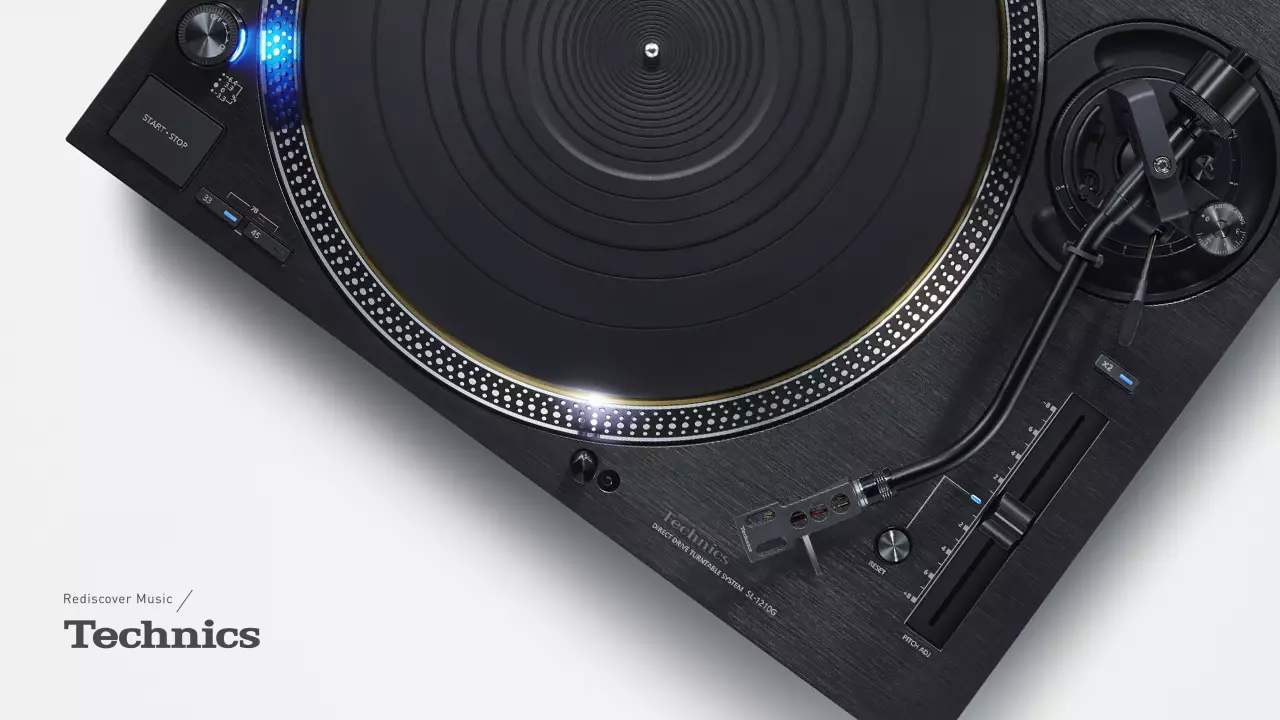 TECHNICS
A new way to music. Technics Reborn.
At the beginning of July 2019, INTEK HI-FI became the exclusive premium partner of the cult brand Technics, which appeals to the audience with a reborn image. The partnership grew out of common values that have inspired both our and Technics' activities in the audio field for many years - respect for music and love for good sound. With its philosophy, Technics strives for the ultimate emotional musical experience for everyone, supporting the musical cultures of the world and skilfully interweaving the love of music with many years of experience in the high-end audio industry. We are delighted to be a part of a story written by music lovers... for music lovers.

An unparalleled musical experience.
The global audio landscape has undergone many changes over the years. Recording techniques, equipment, players, sound carriers and music records changed - all in the direction of the final goal - to provide the listener with the best possible listening experience while simultaneously simplifying the management of the audio system. We live in the age of digital networks and Technics has channeled decades of its engineering know-how into developing a reborn range of products that once again pushes the boundaries of modern audio reproduction and brings the music you love closer to you in a fresh and upgraded image.
Director MICHIKO OGAWA
Rediscover Music.
Music is borderless and timeless, touching people's hearts across cultures and generations. Each day the discovery of a truly emotive experience from an unencountered sound awaits. Let us take you on your journey to rediscover music. Technics.
Delivering the Ultimate Emotive Musical Experience to All.
At Technics we understand that the listening experience is not purely about technology but the magical and emotional relationship between people and music. We want people to experience music as it was originally intended and enable them to feel the emotional impact that enthuses and delights them. Through delivering this experience we want to support the development and enjoyment of the world's many musical cultures. This is our philosophy. With a combination of our love of music and the vast high-end audio experience of the Technics team, we stand committed to building a brand that provides the ultimate emotive musical experience by music lovers, for music lovers.
New encounters with sound
The audio landscape has undergone many changes over the years. From recording techniques and equipment to playback devices and types of media, the audio environment is constantly evolving and diversifying with listening convenience becoming a central need. The rise of the Internet, and in particular broadband speeds, has made it possible to send and receive huge amounts of data allowing music to be digitally obtained at lossless quality. It is now time to enter the era of digital networks, not only putting into place our decades of audio experience, but pushing the boundaries of sound reproduction and enabling new encounters with sound for music lovers.
Technics - A lifetime partner
Over 100 years of analogue audio history, sound quality has matured to a level where people are satisfied with their listening experience. However, the digital era has much more to offer. We will utilise our decades of experience striving for the best sound reproduction possible, through both technology and design, to bring to the market a product with superior audio quality. However, this is just one step in our ultimate goal of bringing the world's highest-class audio experience to music lovers, who will not settle for anything less than the Technics listening experience.
Head of Production KOICHI MIURA
Never Ending Pursuit of the Definitive Sound.
The dynamics of lively music, the breathtaking silence and tension of musical performances. The energy of instrumentalists, and the inspiration of the singer's voice. We will never stop striving to reach the definitive essence of music.
No Limits or Compromises in Sound Development.
In order to achieve the 'Technics Sound', we have established internal rules that push and challenge us every step of the way. Dedicated audio specialists are involved in a stringent development process that includes a sound committee performing rigorous sound assessments, step-by-step quality assurance checks and numerous physical performance evaluations. Furthermore, we select the best materials for creating the optimal sound. Only when all of these requirements have been met can the uniquely inspirational 'Technics Sound' emerge. In order to achieve this, there will be no compromise, ever.
Audio is in our DNA.
In re-launching Technics we will be able to call upon nearly five decades of audio experience and bring this DNA into the digital age, delivering innovative digital signal processing technologies wrapped in new design forms.
A sensory experience, not just sounds.
Technics products do not simply produce sounds. They play an important role in the music lover's environment, wrapping the listener in vivid and dynamic music. Staying true to the fidelity of the sound is crucial and we guarantee to reproduce the audio signals as faithfully as possible while maintaining a clean, crisp sound. To realise the 'Technics Sound' we have established no fewer than 100 internal rules. These rules not only include numerical performance but design reviews, material selection and communication with audiophiles to establish and maintain the true 'Technics Sound'. This is the culture of Technics under which true excellence will be provided by music lovers, for music lovers.
Chief Engineer TETSUYA ITANI
Never Ending Pursuit for Perfection through Innovation.
We promise to challenge the limits of sound reproduction through innovative technologies that we will strive to constantly improve.
Innovation is in Our DNA.
Since the birth of Technics in 1965, we have pursued and achieved many 'world's firsts', and delivered attractive, innovative audio products to the world. The rejuvenated Technics team will bring to the table an untiring effort for improvement surpassing what has previously been achieved and will strive to deliver sound reproduction as close as is possible to the way the artist intended.
Innovation keeps Technics' technology moving.
Our company invested extensive research resources in Technics, which led to the emergence of unique technologies, such as direct-drive turntables, linear-phase speakers, and switching distortion reduction for amplifiers. These technologies helped to build a new era and drew admiration for the brand. Even since Technics temporarily left the market, the core DNA has been inherited by other products such as DVD and Blu-ray players. Now, we are confident that we have a strong foundation for new technology to support the return of Technics.
Technics' technology for an emotive listening experience.
In our view technology is only a means to deliver optimum musical experiences. The new Technics products will aim to prove just how far the boundaries of sound quality can be pushed by technology. The introduction of our new technologies has enabled us to solve the problem of noise and distortion, an issue which could not be completely eliminated by previous digital amplifiers. It has enabled us to deliver higher-resolution signals to speakers, which are now able to reproduce sound as close as possible to having the actual artist perform in the room with you. This has been further enhanced with the Technics coaxial speaker concept to narrow the focus of the sound. New technologies, such as signal processing to optimise audio-signal-to-speaker characteristics will also constantly be developed to meet the new requirements of high-resolution audio. Technics will not stop innovating audio technology to create the most emotional music experience possible by music lovers, for music lovers.
Chief Designer RYOICHI YAGI
Technics Design and Listening Environments in Perfect Harmony.
We will design long-lasting products which not only accentuate the music lover's listening environment but also stay true to the traditional Technics design identity.


Timeless Design in Every Detail.
Our new Technics products have a timeless design that stays true to the clean, stylish lines of our traditional Technics products, whilst also allowing for the housing of superior acoustic technology. High-grade materials, precise construction, expert craftsmanship, as well as dignified colours and texture all combine to create the prestigious centre piece of any music lover's listening environment.


Designed for sound and harmony.
The new Technics products have been designed with two key design concepts at their core. The first is a design that resonates with the music lover's heart. This is not simply a piece of electrical equipment but an essential element in the complete listening experience and a product that the music lover is proud to own and display in their home. The second is a design faithful to the traditional Technics identity with no superficial elements. The product has been precisely designed to only include essential elements enabling the high level of performance required.
Integrating heritage and new innovations to create Technics' core design values.
The passion and detail that go into creating Technics products are not only confined to technological innovations. When it comes to design, the passion is preserved by focusing on a well-engineered body construction that complements and enhances the technology inside. High-grade components are used for even the smallest elements such as the tactile, minimalist buttons. However, the past also meets the present to bring back a sense of analogue emotion with the switches and the sight of VU meters bouncing as you listen. Furthermore, the dignified colours and form of the equipment will surely help to create a prestigious aura wherever it is placed. Technics has a proud and diverse heritage that we have used to establish a new form of design identity that we hope will be equally loved over the years. What type of presence should Technics have in the emotional act of listening to high-quality audio? Our new design will surely provide the answer at a single glance.
Link to offical manufacturer website:
TECHNICS